Let's look at the ongoing, debilitating symptoms linked with a hyperactive immune response that lingers for months, even after the active infection has subsided.
Long Covid can be visualized as shown below. In this condition, the grey line, representing the hyper-inflammatory stage, remains elevated instead of decreasing in response to the presence of the virus, illustrated by the purple line.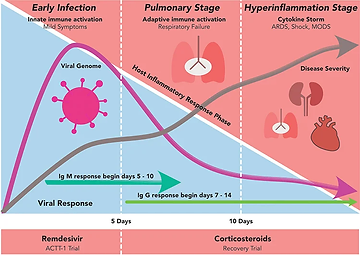 Ideally, what should happen is illustrated below. It's important to note that Long Covid doesn't necessarily mean the virus is still present. Instead, the problem lies in the body's excessive and persistent immune response.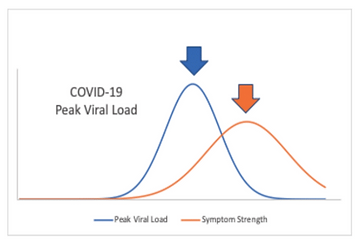 Long Covid can be a profoundly debilitating disease. Worryingly, its prevalence is on the rise, with recent science suggesting that up to 1 in 8 of those infected develop at least one Long Covid symptom. Crucially, the risk of Long Covid increases with each subsequent infection.
There are three groups of individuals who seem to be more susceptible:
Those with high oxidative stress or compromised antioxidant systems
💡
Hardcore athletes. Runners. Very intense working out. Some metabolic deficiencies and pathways.
Those with a tendency towards an overactive immune system - conditions like allergies, IBS, etc., often associated with Mast Cell Activation Syndrome (MCAS)
💡
Allergies. Gut Health. Sometimes this stacks with Stress and creates a double whammy.
Those with cortisol issues, often linked to chronic stress
💡
Type A personalities. High achievers. Depression. Chronic Stress.
---
The diagram below illustrates key relationships. In essence, NAD+, Mast Cells, Gut Health, and Inflammation/Oxidative Stress are all major players. The reason Long Covid has been a tough nut to crack is due to the interconnectedness of these factors.
The medical cross symbol indicates where supplementation can restore balance. The apples symbolize areas where dietary and lifestyle changes can correct imbalances.